Deep Buttoned Footstool Course
What is Deep Buttoning?
There are two main types of buttoning in upholstery; shallow or deep. Shallow buttons are simply pulled tight enough to create dimples in the upholstery. Deep buttons have to be prepared in advance; holes are made in the stuffing ready to pull the buttons down much deeper. Pleats are formed in the fabric to enable it to move down into the holes, creating a luxurious diamond pattern in between the buttons.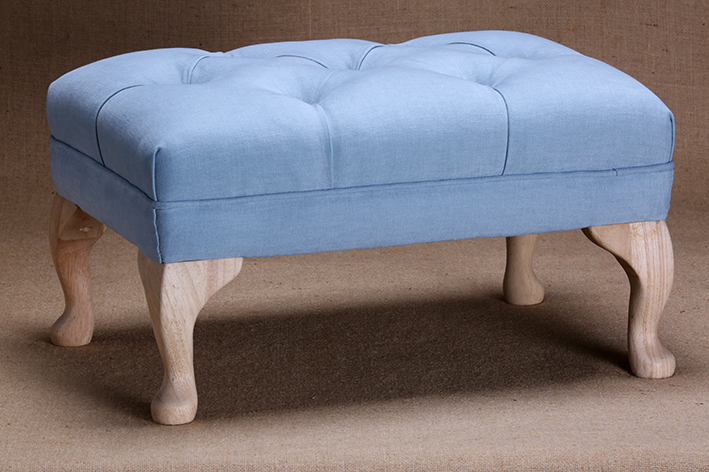 Everyone on the course will be provided with a with a well-built wooden frame measuring 50cm x 35cm with Queen Anne legs. Not only is it extremely beneficial to learn the basics on a rectangular footstool, but it also removes the problem of finding a suitable project.
By the end of the course you will have created an intricately hand-crafted piece of furniture and will be ready to take on more advanced projects.
What to Bring:
- One metre of wool fabric suitable for upholstery (standard 130-150cm cm roll width)
- Some contrast fabric if you wish to make buttons and piping of a different colour
Carla will be able to give you guidance on suitable fabrics, so please do get in touch with us at upholstery@thewoodworksproject.com
Course Description
Our six-day Footstool course covers a lot of ground, as it first involves building up a traditional 'Stitch & Stuffed' seat pad and then learning the more advanced techniques of deep buttoning and adding a piped border. In the process students will learn a wide range of techniques including:
Stretching Webbing

Fixing with tacks and staples

Attaching platform hessian

Tying down loose stuffing

Traditional Upholstery Stitching

Folding around corners and legs


Fire retardant considerations




Deep Buttoning and Piping




Invisible hand stitching



In our spacious upholstery workshop you will have use of all the correct tools for the job, including a professional air staple gun and button covering machine.
New course dates will be announced soon!
To receive an information pack and to book a place on one of our courses, or for any other enquiries, please visit our online shop